The Otori is one flagship of the General Staff of United Planets Space Force headed by Vice Admiral Sesshu Mifune. This ship is one of largest manned ship in the army owned by United Planets.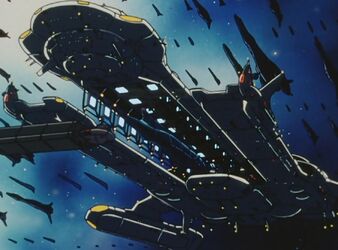 The Allied Space Force Command Tower, which is a non-combatant ship and does not invade the battle area, but mainly sends commands to the fleet. It is the only ship of the United Planets that has a shape far from the so-called "warship", and has a bridge that projects from the rear engine part to the front like a turtle's neck, and flies on both sides of it. There is a deck. Inside the ship, there are military facilities such as an operational conference hall, a cell, and an execution chamber, as well as entertainment facilities such as an officer's restaurant.
In episode 22, Captain Tylor detained in a cell to be executed for treason for releasing the Raalgon Empress. Luckily, the crew of the Soyokaze saves Tylor while Raalgon Empire launch all-out attack.